Our main goal here at The Kyanite Press is to uplift indie voices. We hope to discover new talent, work with established authors, and create a truly unique and cutting-edge journal. Please check out our contributors and support them by visiting their websites, following them on social media, and purchasing a copy of The Kyanite Press!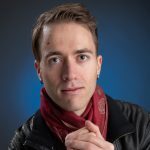 "Edge of Fire" – Autumn 2019
Andrin Albrecht was born in 1995 in Switzerland and had fallen in love with both reading and writing from the moment he actually learned to read and write—first in German, and after a sufficient amount of school, increasingly also in English. He currently studies for a Master's degree in English literature at the University of Zurich, with intermezzos in Colorado and Singapore, and in what spare time he has left enjoys skiing, traveling, composing both modern and classical music, and playing the electric guitar in several bands.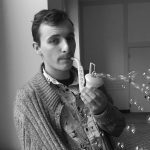 "Diamond Tears" – Winter 2020
Kenneth Amenn is a long-time fan of Golden Age science fiction and has been influenced by Asimov, Bradbury, Dick and Heinlein. His hobbies include writing jokes, amateur film making, and voice acting. For a long time Kenneth has only written poetry, but has recently fulfilled his life-long dreams of writing short stories and submitting them to magazines. He prefers to write in the genre of science fiction, but also experiments with other genres like horror and suspense. He has one brother and two sisters, and he now lives with them in Chicago; along with his cat Peanut.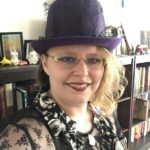 "For the Greater Good" – Sep/Oct 2018
"Yusupov and the Marinov Merchants of Death" – Winter 2020
Sam Amenn is a sci-fantasy writer living in Chicago with their pea-sized pup. Their story "For the Greater Good" was published in Kyanite's Volume 1, Issue 1 and their fanfic "Warrior's Spirit" was published in the Samurai Trooper 30 Year Anniversary Fanzine. They love writing about revolutionaries, madmen, humanoid crocodiles, and arachnid-based creatures. When they are not writing, they are protesting, reading, or chasing after squirrels with their dog. With a deep love of everything gothic or historical, Sam blends the 19th century scifi with the gothic tragedy of Shirley Jackson and the absurdity of 20th century history into most of their stories. They are currently working on For the Next Killer Who Dies, the first book in their sci-fantasy series.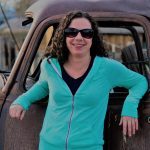 "Sanctuary" – Winter 2020
Alexis Ames
is a writer living in Colorado who first picked up a pen when she was eleven years old, and hasn't put it down since. Science fiction is her preferred genre–more specifically, exploring the changing relationship between humans and technology. Her work has previously appeared in publications such as
Prismatica Magazine
,
The Corvus Review
, and
The New Accelerator
. She can be found on
Twitter
, and a list of her current and upcoming stories can be found on her
blog
.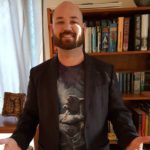 "Scolopendra" – Halloween 2018
Zachary Ashford is the former creative director of a rock n roll radio-station, heavy metal journalist, and current high school teacher. Born in the UK, but a long-time resident of Brisbane in Australia, he likes his horror pulsing with monsters, breathless with tension and soaked in blood. His work has also been published in Dark Moon Digest.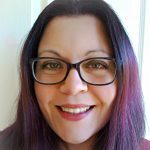 "The Dream Weaver of Wolfsbane Lane" – Autumn 2019
Caroline Barnard-Smith lives with her husband and three daughters in Devon, England. In her past life she wrote vampire novels and horror stories but since stumbling into an enchanted land hidden in the back of a wardrobe she has been writing fantasy. She has no plans to stop any time soon.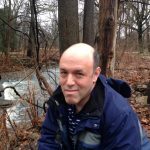 "The Greatest Confidence" – Nov/Dec 2018
Martin Berman-Gorvine is author of the "Days of Ascension" horror novel series published by Silver Leaf Books: All Souls Day (2016), Day of Vengeance (2017), Day of Atonement (2018), and Judgment Day (coming spring 2019).  He has also authored seven science fiction novels: the Sidewise Award-winning The Severed Wing (as Martin Gidron) (Livingston Press, 2002);  36 (Livingston Press, 2012);  Seven Against Mars (Wildside Press, 2013);  Save the Dragons! (Wildside Press, 2013), which was a finalist for the Prometheus Award;  Ziona: A Novel of Alternate History (as Marty Armon), an expansion of the short story "Palestina," published in Interzone  magazine, May/June 2006 (Amazon/CreateSpace, 2014);  Heroes of Earth (Wildside Press, 2015);  and Monsters of Venus (Wildside Press, 2017). 
Martin lives in Maryland with his wife, the youngest of his three sons, four cats, and two dogs.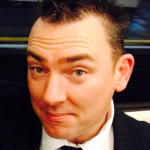 "Racing Vengeance" – MAR/APR 2019
Paul Blake started writing in 2016 when he took a creative writing module to complete his Bachelor of Arts (Honours) degree after failing far too many programming modules. He discovered a passion and has been writing since. His first novel, A Young Man's Game was published in 2018. He regularly posts short stories on his website. He is currently outlining the sequel to A Young Man's Game and also working on a ninja based novel.
Paul is 43 and lives in London, England with his wife and three boys.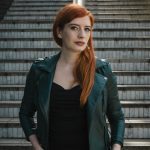 "The Hand that Holds" – Autumn 2019
J.D. Blythe, or Janet, grew up on an archaeological site and was raised largely by wolves. Straddling Mediterranean, American, British and Dutch cultures, her writing includes themes of outsiders, history and the power of knowledge. As well as writing, Janet has worked professionally as a historical music consultant, recorder player, opera singer, teacher and Dungeons and Dragons performer. She is also the Founder and CEO of World Anvil, the worldbuilding platform which helps writers build and market their world settings and works. Janet lives in London with her husband, alpha reader and co-conspirator, Dimitris.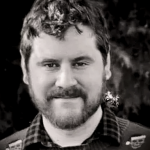 "Twilight at the Baseball Ground" – Spring 2020
George Alan Bradley lives in the Midwestern United States with his wife, Lisa, son Everett, daughter, Evelyn, and a menagerie of peculiar pets. Besides a collection of short stories, his debut novel 'The Watchmaker' will be released in late 2020.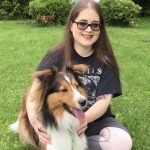 "The Eternal War" – Winter 2020
Erica Ciko Campbell made her writing debut on backwater internet forums in the early 2000's. Since then, she hasn't been able to resist tormenting her friends and family with the occasional dark science fiction story. She loves cosmic horror and anything that sounds like it could have been written by a grumpy, displaced 16th century vampire. Currently, she's working on the second book of the Tales of a Starless Aeon series while seeking representation for the first. She lives with her husband Jeremy and sheltie Charlie in the middle of nowhere in upstate New York.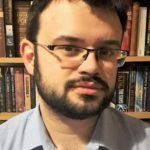 "Hiss, Whistle, and Crack" – Halloween 2018
Mike Chapman is a Science teacher who lives in the rolling golden fields of Suffolk in the UK with his wonderful wife and three lovely daughters. He enjoys reading horror and Golden Age science fiction and has written stories ever since he was little. His crime and speculative fiction short stories have been published in print and electronically in the UK and US and he has won national competitions for them. Mike is currently editing a collection of short stories in a range of genres and hopes to be publishing it soon.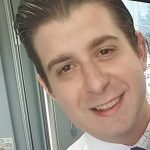 "Triumvirate" – JAN/FEB 2019
"Flight and Failure" – JUL/AUG 2019
Leo Charles M. is a lover of reading and writing from Jersey City, NJ USA. He has a passion for world building and storytelling, making grand worlds and populating them with crafty gods and clever heroes. He dabbles in poetry. This (Triumvirate – v1i3) is his second published short-story from the world of Chronicles of Mayhem. His dream is to one day publish his fantasy novel.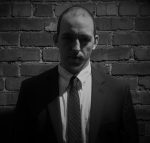 "Echoing Carcossa" – Halloween 2018
"Worth Dying For" – Nov/Dec 2018
Chad D. Christy is just a guy who likes to write. He's been a journalist, a retail manager, a dungeon master, a self-defense instructor, and a paramedic. His first story was scrawled in crayon at the age of six. His most recent work, That's What Neighbors Are For, is a collection of literary short stories. He has also written two novels: the steampunk horror adventure, Through the Blind, and American Fantasy, an adventure set in an arcane post-apocalypse.
He currently lives with his wife and son in Columbus, Ohio.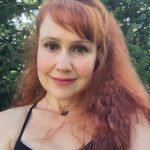 "Away" – Winter Digest 2018
A past winner of the Alice Munro short fiction contest, Adrienne Clarke's work has appeared in several publications including, New Plains Review, Silly Tree Anthologies, and in the e-zines The Devilfish Review, Rose Red Review and the Long Island Literary Journal. Her first YA novel, Losing Adam, garnered a silver medal in the Independent Publisher Book Awards.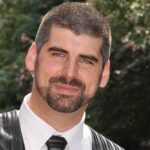 "Targeted" – Sep/Oct 2018
"The Prisoner's Diary" – Halloween 2018
"The Last Ride of the Inferno Train"
Winter Digest 2018
Hailing from the capital of the Great White North [Canada], Stephen Coghlan spends his days erecting buildings, and his nights reveling in the dreamscape. Since 2017, he has produced a myriad of flash fictions, short stories, novellas and novels, including, but not limited to, the GENMOS Saga, the Nobilis series, and has had his works read on podcasts and featured in anthologies.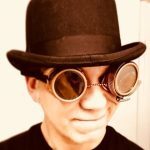 "Harold and the Cookie" – Halloween 2018
"Lowell's Second Chance" – Winter Digest 2018
"Shut Up and Brew the Coffee" – MAY/JUN 2019
"Interrupted Thoughts" – Winter 2020
Professor Cognome is the pen name for an academic hiding from nosey colleagues who (wrongly) think that writing about monsters and airships disqualifies them as a serious writer. When not writing, Bolt likes to drink coffee and/or fine cognac while disappearing into some other author's world through a book (and will continue to do so, at least until the TARDIS shows up to do it for real). The author lives in the wilds of New England with their partner, two future authors, their faithful dog Chewbacca and the ghosts of at least two cats.
Professor Cognome also appeared in our 2018 Halloween issue under the nom de plume I.M. Bolt.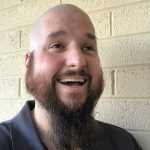 "Escape from Ogre Island" – Winter 2020
Daniel Dickinson enjoys writing. He has been writing since a young age, and has created an entire world since then, which he can move characters around in. He has a wonderful family and is a proud father with a beautiful wife. He enjoys traveling, and photography as well as food and art. As a hobby, he takes his daughter and grand kids camping at least twice a year.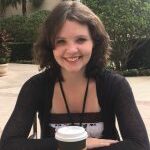 "On Darker Waters" – JUL/AUG 2019
Azaria M.J. Durant started writing when she was very young with ambitions to publish by the time she was twenty. Sure enough, she self-published her first novel, an epic fantasy called Broken Arrow (Darkened Destiny #1), in the year of her twentieth birthday. A year later, she is getting ready to launch the second book in what is planned to be a six book series. When not writing, Azaria enjoys sketching concept art for her stories, coaching beginning writers with their plots, character, and worlds, and chatting for hours with her fellow writing friends.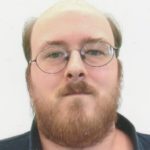 "Classified:  Agent of D.A.R.T."
– Halloween 2018
"Mother of All Storms" – JAN/FEB 2019
Gary Fagan is a Thirty-Six year old bachelor with no children or major responsibilities. And so, he spends much of his free time creating stories that interest and amuse him. He thought that if he enjoyed the stories, others might as well; which lead him to start sharing them with friends and loved ones.
From there he tried unsuccessfully many times to garner the attention of agents and publishers alike. The rejections process stung, but he continued writing anyway. He wrote them because in his mind, they needed to be written or they would have driven him mad.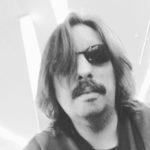 "Last Race of the Animals" – Winter Digest 2018
"Dragon's Fall" – MAR/APR 2019
"Fragmented Reality" – MAY/JUN 2019
"Chasing the Darkness" – Autumn 2019
"Journey to the Isle of Xim" – Winter 2020
"The Shattered Sea" – Spring 2020
"The Outer Rim" – Summer 2020
Born in the usual way, Michael D. Nadeau found fantasy at the age of 8 with Dungeons and Dragons. He loved being different people and casting magic. By the late 90's he discovered his love for reading. His favorite teacher gave him her personal books to bring home, and he couldn't get enough. He had even more ways to explore the great worlds out there, and it was harder and harder to come back.  When he was much older, and had created and destroyed more worlds than he could count, he decided to delve into the literary world. He created Lythinall, a place where he could tell epic stories and invite his readers on the journey with his characters. The Darkness Returns is the start of the journey, but certainly not the end.
"The Rookery at Smeaton Abbey" – SEP/OCT 2018
"The Children of Blackmarsh" – Halloween 2018
Benjamin Hope is the author of Victorian gothic-steampunk crossover, The Procurement of Souls. His sequel, A New Religion, is due for release in 2019 and he is also currently working on a collection of cautionary fairy tales. He blogs regularly on the writing process and offers up recommendations in 60 words for speculative and gothic fiction on his website at www.benjamin-hope.com.
He occasionally guest lectures at universities on public speaking and lives in Hertfordshire, in the UK, with his wife and daughter.