Written by prolific Canadian author Stephen Coghlan, 50 Shades of Neigh is a fantasy parody sure to please.
Now available in eBook and Paperback formats, we invite all voracious fantasy readers to purchase or rent their copy today!
A fun, twisted fairy tale for grown-ups with a unique, unpredictable story. If you grew up playing with My Little Pony while also pulling the heads off of Barbie Dolls (like I did), then you'll get a kick out of this book. I also learned some stuff about anatomy that I didn't know before…although it's not really knowledge I'll be able to put into practice.

Mel, from Kornicky & Mel in the Morning, Rebel 101.7 FM; Ottowa, ON, Canada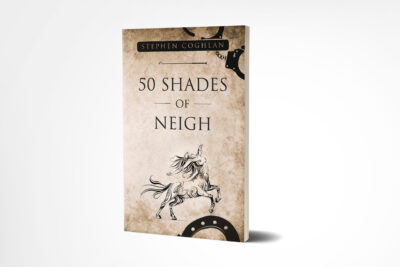 Title: 50 Shades of Neigh
Author: Stephen Coghlan
Formats: eBook, Paperback
Genres: Fantasy, Paranormal Fantasy, Fantasy Romance
Retailers: Kyanite Publishing, Chapters Indigo, Amazon, Barnes & Noble
ISBNs: eBook (978-1-949645-95-8); Paperback (978-1-949645-96-5)
Length: Novella, approximately 175 pages
With the threat of World War 1 and its technological horrors looming, the heir apparent to the deadliest warrior kingdom, and home to honest-to-god Centaurs, must find a new path for her peoples before they are massacred in the trenches.
Journeying to America, she searches for a future free of death, but will her absence leave the kingdom vulnerable to her conniving siblings?
Note: this title contains graphic sexual imagery and content.
Hailing from the capital of the Great White North [Canada],
Stephen Coghlan
spends his days erecting buildings and his nights reveling in the dreamscape. Since 2017, he has produced a myriad of flash fictions, short stories, novellas, and novels, including, but not limited to, Urban Gothic, the GENMOS Saga, the Nobilis series, and has had his works read on podcasts and featured in anthologies.